Options that can be adjusted by clicking the "settings" button on the main screen.

"Login" Tab 
"Main" Tab 
"Telegram & AutoBuy" tabs
"Autodetection" Tab
"Advanced" Tab
"User Interface" Tab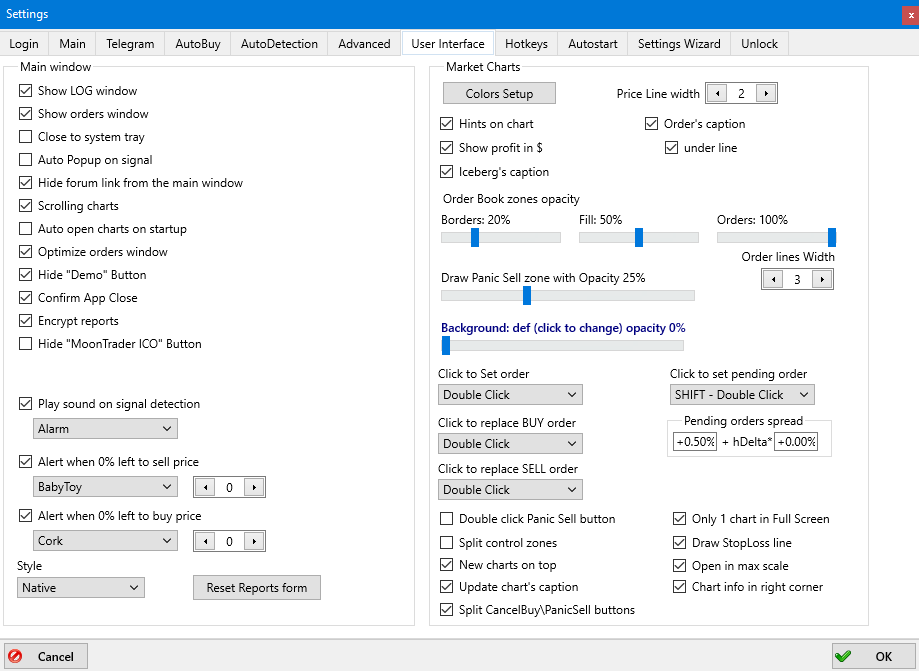 Main Window / General performance
Show Log window: Display/hide Log Window frame
Show Orders window: Display/hide Active Orders frame
Close to System Tray: Closing the bot will hide to System Tray
Auto pop up on signal: Auto pop up the bot window upon signal detection
Hide forum link from the main window: Remove the forum link from the main window
Use fixed buy order volume: choose to work with fixed or floating order selector type
Scrolling charts: Multiple charts will either have a fixed frame size or will "stack" in the main window
Auto open charts on startup: choose to open the chart for all open orders upon startup
Optimize orders window: tweaks for orders window rendering
Fast charts update: Full-screen chart will display orders on the chart twice as faster
Hide "Demo" Button: Hide the Demo button from the main window
Confirm App close: Before closing, the app will ask for a confirmation
Encrypt reports: Reports file will be encrypted and thus restricted to offline editing
Play Sound on signal detection
Alert when 1% left to sell price
Alert when 0% left to buy price
Additional sound settings for signals and price action
Style: choose from "white" or "black" theme
Reset reports form: revert Reports columns placement and settings to default settings
Market charts / Active control area
Color for order lines: Choose the colors of the order management functions
Price line width: choose the width of the Price Line
Iceberg's caption The option to show If your order is Iceberg (Settings – UI).
Then you can set a convenient display of the order book region and its orders, and also set a background for the charts by clicking on the blue text, you can then center the background image by clicking the left mouse button while the shift key is pressed.
Draw Panic sell zone opacity: Depending on your order size, the order book opacity will change, showing the approximate target price level in case of panic sell
Draw order book zones with opacity: show order book zones with selected opacity, helping to define zones even with smallest orders
Background image and opacity: Choose an alternative background image, select its opacity
Double click Panic Sell button: Panic sell button will be activated only after doubleclick. Helps avoid occasional misclicks on the button on the next second after the order was filled
Double click on Orderbook to put order: easiest and faster and at the same time, the most precise way to place an order.
Prevent new charts in Fullscreen Mode: Chart open in Full-Screen mode will have priority over new detects and will not be interrupted or overlayed
Chart info in right corner: Coin BV/SV volumes info placement change
Click to replace order: choose the preferred action for order replacement. Helps avoid misclicks during fast-paced trading
Split control zones: Selecting this option will restrict order management zone only to order book area
Draw Stoploss line: on/off stoploss line drawing
New chart on top: Every coming new detect will pop up on top of other previously open charts
Update chart's caption: New detects on the same market will update the chart's caption(top area last detect info)
"Hotkeys" Tab

Fixed order size buttons.
Input values for each order size button on the main window, define hotkeys for each of them. Very useful for Manual Trading, keep different order sizes handy.
"Autostart" Tab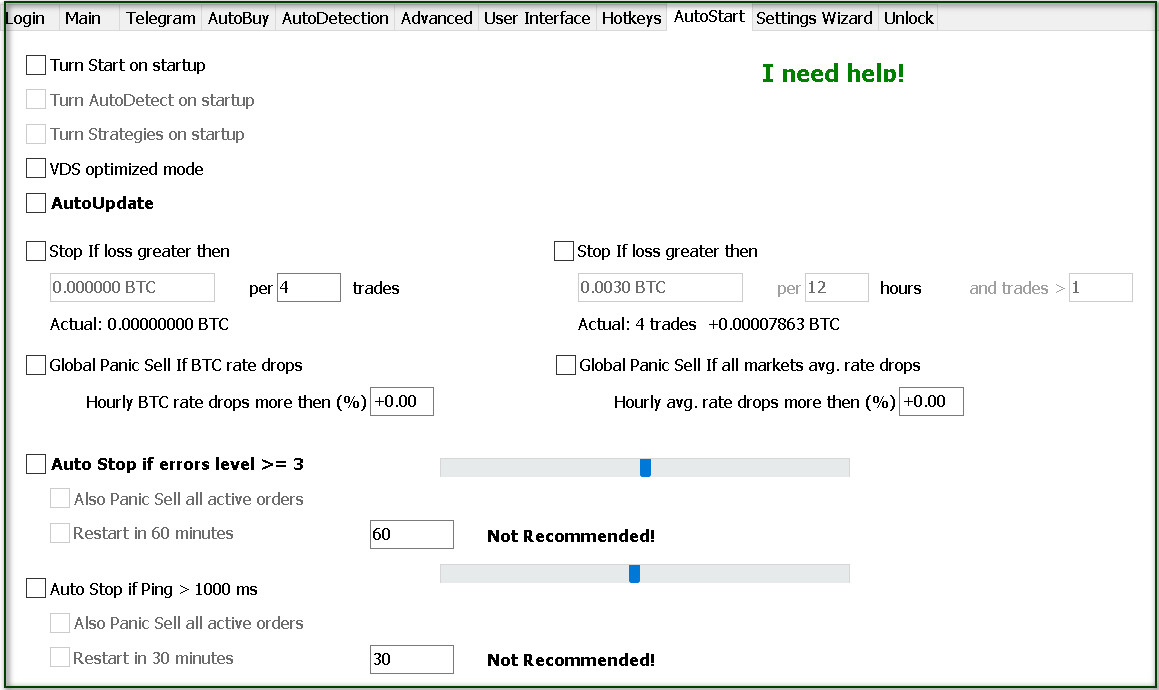 Turn Start on Startup
Turn Autodetect on Startup
Turn Strategies on Startup
Self-explanatory options, needed for standalone startup and keep-alive functions
VDS optimized mode: lower graphics performance, giving more priority to calculations and order management functions
Autoupdate: Auto update and restart as soon as the new version is available for download on the website
Stop if loss greater than: Stop working conditions. General, overall stop-loss condition
Global Panic Sell if BTC rate drops: Panic sell all open orders if BTC drops X%
Global Panic Sell if all marketing avg. hourly rate drops: Panic sell all open orders if average market delta drops X%
Auto Stop if errors level >=X: Auto stop if exchange lags detected
Auto Stop if Ping >XXXX ms: Auto stop if connection lags detected
"Settings Wizard" Tab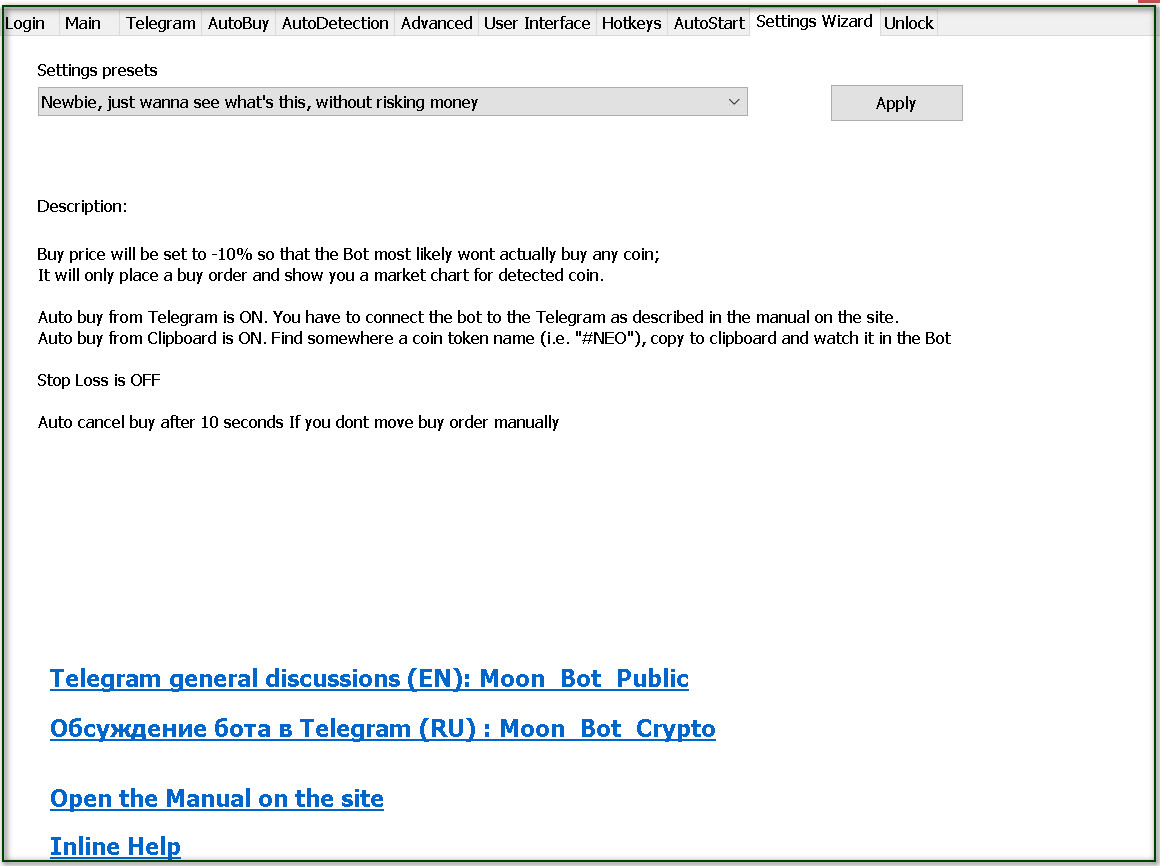 Main Settings Presets. Especially helpful for quick setup for Premium Moon Telegram channel(also viable for setting up any other Signlas channel, by applying Premium Channel preset, thus activating common signals trading keywords and signal detection rules).
Links to  Telegram discussion chats
Links to online and offline manuals

"Unlock" Tab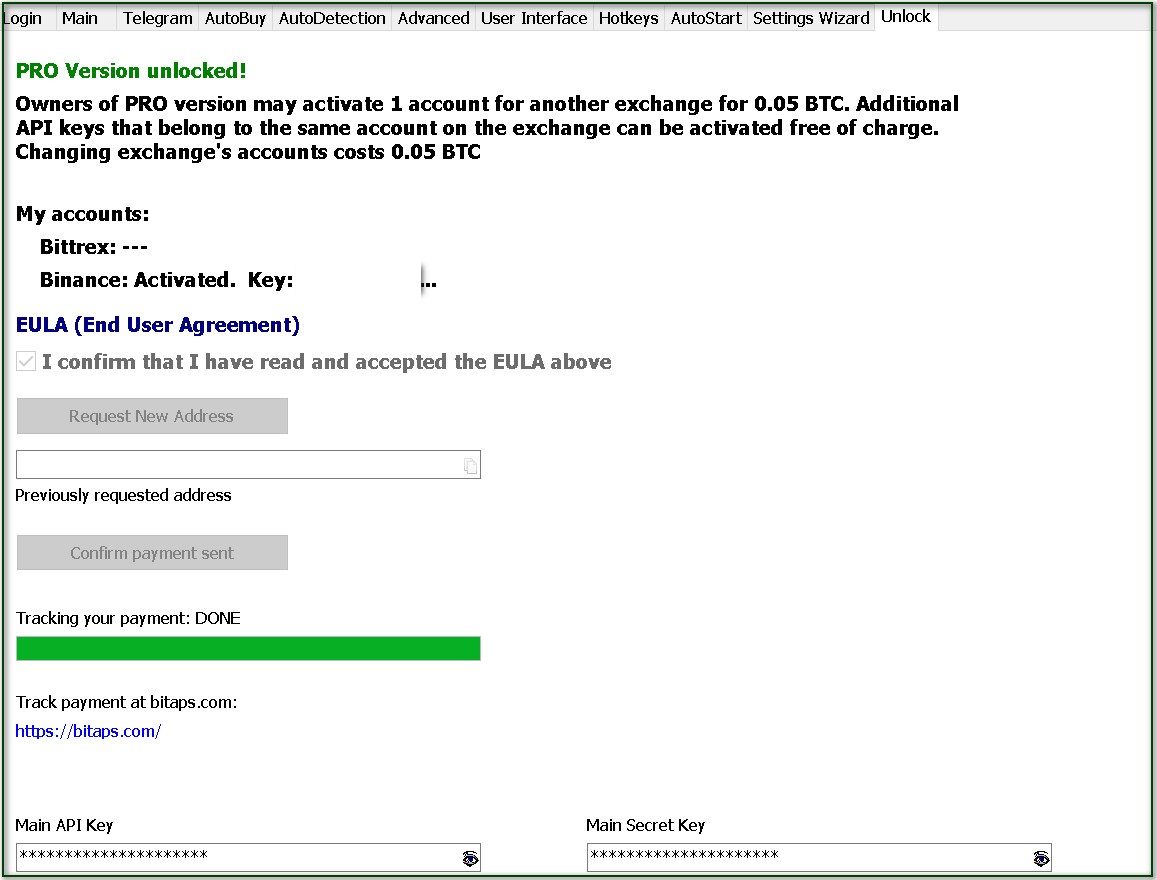 PRO unlock page.
This page will show your PRO activation status.
The payment to unlock your Moonbot to PRO version is also performed and tracked on this page.