The main nuance when working with the Binance exchange by API is the limits for operations per minute. When the limits are exceeded, the exchange issues IP ban for 2 minutes, so the bot continuously monitors current API the load; when you approach the limit, the operations will be executed with a delay. Current API usage is indicated in the status bar panel (API Load).
Generally, you do not have to worry until the indicator is half full; if it becomes red, you are near the limit, and the bot will start inserting delays into operations. The most "heavy" operation is loading of a full order book (1000 orders), so when working with binance, the bot loads a full book only for full frame chart; the other markets load 100-orders book (until you open the market in full frame).

For the same reason, loading data at startup on the binance is divided into 2 stages. First of all the most necessary data is loaded – volumes, prices, 100-orders depth books. Then gradually the bot loads the rest of the data necessary for calculating the Pump Q (in the status bar the inscription "Update data"). These data are needed only for calculating Pump Q (namely, 500-depth order book for walls calculation are loaded). In manual mode and / or with the "Don't buy If PumpQ.. " check mark disabled, the bot is ready for operation; If the check mark on Q is enabled, wait until the download is finished, otherwise the Q number will be inaccurate.
The detection method "SuperFast2" won't work on binance, cause continuous order book scanning would break API limit very fast.
Important! There are restrictions on the binance for orders size, min.price and volume step.  If you pay a commission in bitcoins, then there will be fractional shares of coins that can not be sold. Therefore, you should manually buy some BNB in ​​advance in order to pay a commission in BNB (in addition, it also gives a 50% discount on the commission).
IMPORTANT! Do NOT run 2 or more Binance bots in the same network (with the same IP) !!  API requests made from the same IP are summed up, which will lead to an instant ban for 2 minutes.
If you have accounts on Bittrex and Binance, you can switch the bot between exchanges in the Settings -> Login page: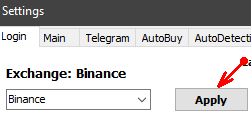 But it is better to make a separate folder for each exchange by copying the folder with Moon Bot. In one folder the bot configured for bitrex, the other for binance. In this case, you can run both bots at the same time (however, only 1 currently reads the Telegram, we will solve this issue in the next update).