As the Moon Bot develops, it becomes more complex, new features and options settings are added. New users come with questions - how do I find ideal configuration, where do I get channels with signals and so on. Many of them somehow already found their own groups with "signals" of questionable quality, admins of these groups often buy the coin themselves, and then give a "signal" and dump it on their subscribers.
Taking that into account, we decided to create our own premium channel, where we collect selected signals, as well as a special profile of the bot settings for this channel, with which the bot is ready to go "out of the box." We have accumulated a lot of experience in understanding how delays between the source of a signal and the appearance of its reposts in other groups are important; By collecting general server statistics from all running bots we can constantly monitor which channels give the signal first, and which ones use to dump it on you.
To get access to to the Moon Bot Premium channel please pm this contact: https://t.me/krypto_pride.

To start using the Moon Bot's channel, go to the settings wizard and activate the "Special Moon Bot Channel" profile.

Then go to the Settings _> Telegram: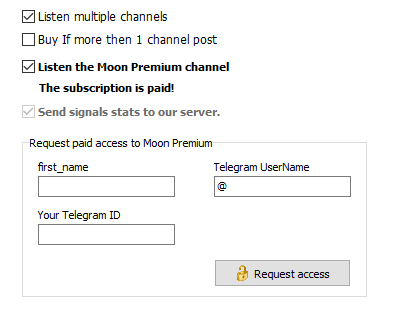 Fill you Telegram Name, Telegram UserName (Login) and Telegram ID, then prss "request access" button.
Wait until you will be invited to the Moon Premium channel. After that check the "Listen to the Moon Premium chaannel" checkbox.
Make sure you are running the Alternative Telegram
Also we have free channel containg some signals from the Prmium channel to test how it works, join it here:  https://t.me/moon_test1
If you already use another paid signal channels, you can use this profile for them as well.
Release 3.43 brings new feature - the "Pump Helper" tool. Use it to play pumps where the coin is given in a picture (so a bot can't directly read it, only human can).
How it works: first you should configure the pump detector strategy (settings example at the bottom of this page). Configure it such way that it gives about 3-5 signals per minute. You MUST turn off autobuy in the strategy also you may turn off auto opening charts.
Then activate the strategy, turn ON "autodetect", go to the Menu and select "Pump Tool". This brings the window with market buttons which the detector has found:
Of course there will be false detections, thats why you turned OFF the autobuy option.
Now all you have to do is wait the pump channel and as soon as you see the coin, push appropriate button in the Pump Helper. In the "signals" mode this will immediately buy the coin. In the "manual" mode the button only opens the chart.
Note: the button is NOT related to the pump detetor strategy settings; its just a button to help you faster buy the coin. The settings it uses for order's handling are the settings from the main window !
When preparing to a pump pay attention to the following settings:
1. In the main window its strongly recommended  to use "buy for 30-secs old price", this will use limit order related to initial coin's price. Otherwise using market price is way too risky!
2. Settings -> Main: For well-know pumps you may turn off all checkboxes in the picture below:
If you don't know whether to trust a pump group, use these settings to prevent the bot from entering prepumped coins: "Dont buy If price changed more then 10%..15%", "If 3h volume more then like 50 BTC" and so on.
IMPORTANT: If the bot has not bought the coin (due to risk limit settings or the prise raised up as hell and you missed it)  - cancel your order and relax, or at least move the order down, but NEVER move it up!

The pump detector strategy example: (If you want less sensitivity, adjust the following:)
   PumpPriceRaise=0.3000 (use higher value like 0.5 .. 1%)
   PumpBuysPerSec=3
   PumpVolPerSec=0.2000 (use higher value like 1-2 BTC for strong pumps)
   PumpBuyersPerSecMin=1
   PumpBuyersPerSecMax=40 (use lower value like 4-10)
   PumpVolEMA=4.000 (2 instead of 4)
##Begin_Strategy
   Active=-1
   StrategyName=Binance Pump Working
   Comment=
   SignalType=PumpsDetection
   ChannelName=
   ChannelKey=
   SilentNoCharts=YES
   ReportToTelegram=NO
   SoundAlert=NO
   SoundKind=
   KeepAlert=60
   CoinsWhiteList=
   CoinsBlackList=NBT
   MinVolume=0
   MaxVolume=3000
   MinHourlyVolume=0
   MaxHourlyVolume=150
   PenaltyTime=300
   Delta_3h_Min=0.0000
   Delta_3h_Max=50.00
   NextDetectPenalty=30
   AutoBuy=NO
   MaxActiveOrders=1
   AutoCancelBuy=25
   AutoCancelLowerBuy=60
   BuyType=Buy
   OrderSize=0.0000
   buyPrice=4.000
   Use30SecOldASK=YES
   TlgUseBuyDipWords=YES
   TlgBuyDipPrice=-10.5000
   SellPrice=10.000
   PriceDownTimer=0
   PriceDownDelay=10
   PriceDownPercent=0.2000
   PriceDownRelative=NO
   PriceDownAllowedDrop=0.1000
   UseSignalStops=YES
   UseStopLoss=NO
   StopLossDelay=0
   StopLoss=2.000
   StopLossSpread=0.8000
   AllowedDrop=0.0000
   UseSecondStop=NO
   TimeToSwitch2Stop=120
   SecondStopLoss=2.000
   UseStopLoss3=NO
   TimeToSwitchStop3=60
   StopLoss3=3.000
   AllowedDrop3=1.0000
   UseTrailing=NO
   TrailingPersent=-1.0000
   TrailingSpread=0.8000
   UseTakeProfit=NO
   TakeProfit=1.500
   DropsMaxTime=600
   DropsPriceMA=10
   DropsLastPriceMA=1
   DropsPriceDelta=2.000
   DropsPriceIsLow=NO
   WallsMaxTime=0
   WallsPriceDelta=0.0000
   WallBuyVolDeep=0.0000
   WallBuyVolume=0
   WallBuyVolToDailyVol=0.0000
   WallSellVolToBuy=0.0000
   WallSellVolDeep=0.0000
   PumpPriceRaise=0.3000
   PumpBuysPerSec=3
   PumpVolPerSec=0.2000
   PumpBuyersPerSecMin=1
   PumpBuyersPerSecMax=40
   PumpVolEMA=4.000
   PumpBuyersInterval=4.000
   PumpMoveTimer=3
   PumpMovePersent=0.5000
   MShotPriceMin=2.000
   MShotPrice=7.000
   MShotAddHourlyDelta=0.1000
   MShotSellAtLastPrice=YES
   MShotSellPriceAdjust=0.0000
   MShotReplaceDelay=0.0000
   MShotRaiseWait=30.00
   MShotSortBy=Last2hDelta
   VolShortInterval=5
   VolShortPriseRaise=0.5000
   VolLongInterval=1800
   VolBvShortToLong=3.000
   VolBvLongToHourlyMin=0.2000
   VolBvLongToHourlyMax=2.000
   VolBvLongToDailyMin=0.2000
   VolBvLongToDailyMax=2.000
   VolBvToSvShort=5.000
   VolBvShort=0.5000
   VolBuyersShort=3
   VolSvLong=0.4000
   VolTakeLongMaxP=NO
   VolAtMinP=1.500
   VolAtMaxP=0.5000
   VolDeltaAtMaxP=0.5000
   VolDeltaAtMinP=0.2000
   volBidsDeep=3.000
   volBids=0.5000
   volAsksDeep=4.000
   volBidsToAsks=1.500
   VLiteT0=300
   VLiteT1=180
   VLiteT2=180
   VLiteT3=180
   VLiteP1=1.0000
   VLiteP2=1.0000
   VLiteP3=1.0000
   VLiteMaxP=5.000
   VLitePDelta1=0.0000
   VLitePDelta2=0.0000
   VLiteDelta0=2.000
   VLiteMaxSpike=7.000
   VLiteV1=1.0000
   VLiteV2=1.0000
   VLiteV3=1.0000
   VLiteWeightedAvg=YES
   VLiteReducedVolumes=NO
   WavesT0=300
   WavesT1=180
   WavesT2=180
   WavesT3=180
   WavesP1=1.0000
   WavesP2=-11.0000
   WavesP3=1.0000
   WavesDelta0=2.000
   WavesMaxSpike=7.000
   WavesV1=1.0000
   WavesV2=1.0000
   WavesV3=1.0000
   WavesWeightedAvg=YES
   WavesReducedVolumes=NO
   DeltaInterval=600
   DeltaShortInterval=5
   DeltaPrice=2.000
   DeltaVol=5.000
   DeltaVolRaise=2.000
   DeltaVolSec=0.1000
   DeltaBuyers=15
   DeltaLastPrice=0.3000
   ComboStart=
   ComboEnd=
   ComboDelayMin=0
   ComboDelayMax=600
##End_Strategy#
The main nuance when working with the Binance exchange by API is the limits for operations per minute. When the limits are exceeded, the exchange issues IP ban for 2 minutes, so the bot continuously monitors current API the load; when you approach the limit, the operations will be executed with a delay. Current API usage is indicated in the status bar panel (API Load).
Generally you do not have to worry until the indicator is half full; if it becomes red, you are near the limit, and the bot will start inserting delays into operations. The most "heavy" operation is loading of a full order book (1000 orders), so when working with binance, the bot loads a full book only for full frame chart; the other markets load 100-orders book (until you open the market in full frame).

For the same reason, loading data at startup on the binance is divided into 2 stages. First of all the most necessary data is loaded - volumes, prices, 100-orders depth books. Then gradually the bot loads the rest of the data necessary for calculating the Pump Q (in the status bar the inscription "Update data"). These data are needed only for calculating Pump Q (namely, 500-depth order book for walls calculation are loaded). In manual mode and / or with the "Don't buy If PumpQ.. " check mark disabled, the bot is ready for operation; If the check mark on Q is enabled, wait until the download is finished, otherwise the Q number will be inaccurate.
The detection method "SuperFast2" wont work on binance, cause continuous order book scanning would break API limit very fast.
 
Important! There are restrictions on the binance for orders size, min.price and volume step.  If you pay a commission in bitcoins, then there will be fractional shares of coins that can not be sold. Therefore, you should manually buy some BNB in ​​advance in order to pay a commission in BNB (in addition, it also gives a 50% discount on the commission).
IMPORTANT! Do NOT run 2 or more Binance bots in the same network (with the same IP) !!  API requests made from the same IP are summed up, which will lead to an instant ban for 2 minutes.
If you have accounts on Bittrex and Binance, you can switch the bot between exchanges in the Settings -> Login page: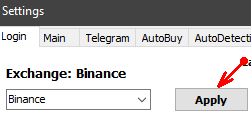 But it is better to make a separate folder for each exchange by copying the folder with Moon Bot. In one folder the bot configured for bitrex, the other for binance. In this case, you can run both bots at the same time (however, only 1 currently reads the Telegram, we will solve this issue in the next update).
Completely failed pump. Only 3% price increase.
Coin: vTorrent (CURE)
Source: @WePump
Price raised: 3%
Despite i still made small profit in this pump, I call it failed, cause 3% is naught for the channel with 49k members. The admin picked a coin with heavy linear sell wall, which just wasn't braked.
I'll try to illustrate this on our pump bot's charts for cure coin:
#WePump
#CURE
#failpump
3 channels was going to make huge pump in an alliance today: @BittrexYobitsWhales,@ToTheMoon,@BittrexYobitPumpSignal (SuperManPower)
This is how those channels posts look like when I made the screenshots an hour later preparing this article: (time on screenshots is GMT+3):
1. BittrexYobitPumpSignal (SuperManPower) promoted the BYC coin at 18:30:18 (or GMT 15:30:18). Then 2 minutes later they promoted the same coin once again.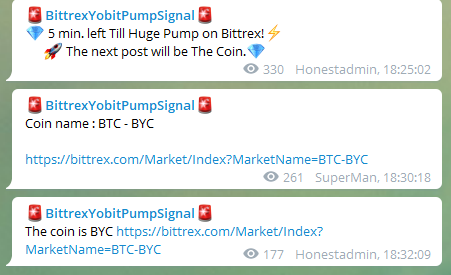 2. ToTheMoon promoted the same BYC coin at 18:32:09, 2 minutes later then the channel above.No doubt members of @ToTheMoon who haven't subscribed to BittrexYobitPumpSignal lost their money in this pump. 

3. BittrexYobitsWhales at first glance just apologizes for a "network problem".

But my Bot software makes channels logs among others wonderful things. Take a look at detailed channels logs for this pump; I added comments to most interesting moments:
Read more: Today's channels mess, or why you need the bot to play pumps